For a long time Whitby in Bloom have had the idea of creating a community orchard. Originally we assumed that this would be open to the public however after researching other ventures we discovered that it was usual for the grounds to be opened only on specific days, eg for harvesting or a fete.
This then opened up the possibility of creating the orchard in the Quaker Burial Grounds, its close association with Pannett Park which used to be a market garden, made the idea of a heritage orchard under-planted with bulbs and plants even more attractive.
Overgrowth removed from wall
Discovering a long forgotten border
Plenty of leaves for mulch
What happened to the wall?
The insects and birds must love this ivy.
Starting to build a fedge!
Fedge building an art or science?
The Elder is taking over.
Planting a gooseberry hedge
First apple trees planted
Donated snowdrops and aconites
Can't wait for next year!
Nice to see the tulips appearing
These hyacinths smell wonderful
First of the wildflowers to show
More wildflowers push through the grass
Fox and cubs decorating the graves
Welcome to the Grand Wildlife Hotel
Putting up the nesting boxes
I love watching you work!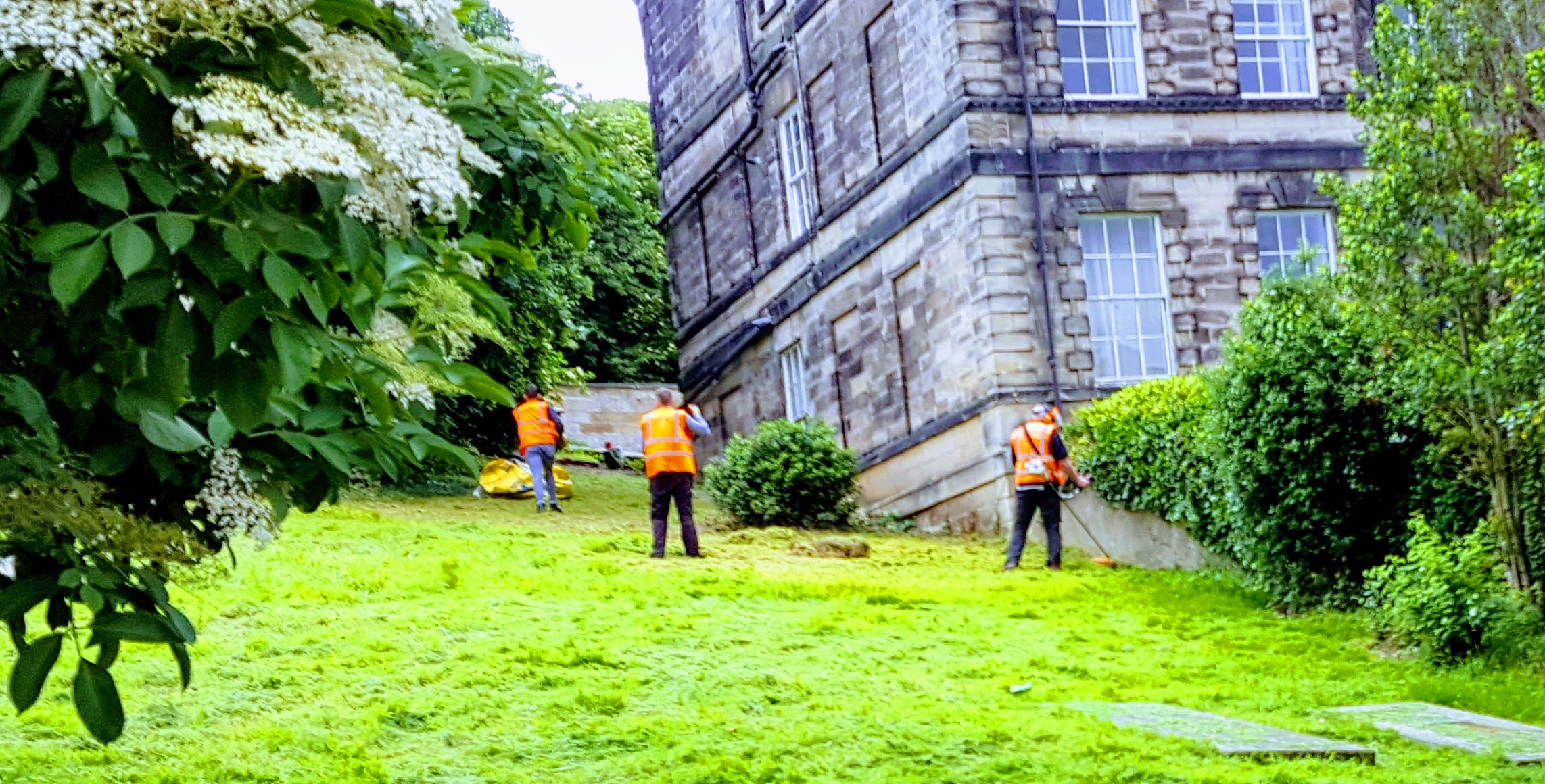 Planting wildflower plugs
How many plugs did we plant?
Story-telling circle gets planted with willow
Key Features
We decided we wanted a Permaculture Orchard with local heritage fruit trees, through season bulbs, herb garden, medicinal plants, wild flowers and eventually mistletoe. Where we needed to increase perimeter security we would plant edible hedges and elsewhere we would under plant with
Clover (nitrogen fixer),
Proteaceae (Grevillea victoriae) fix phosphorous,
Comfrey (extracts deeper soil nutrients) use under mulch.
Nasturtiums, celeriac and chamomile smother grasses which act as competition.
Dill and fennel attract parasitic wasps which control pest insects.
Lavender, peppermint geranium and rosemary attract pollinators and scent confuses pest insects.
Flowering shrubs like Banksia integrifolia attract insectivores for pest control
Bulbs: Cowslips, Bluebells, Crocus, Grape Hyacinth, (naturalising) Tulip and Daffodils
Community involvement would come from
Schools - bulb planting,
Community Pay-Back –overgrowth clearing, building and maintenance,
Whitby Naturalists - small mammal and bird monitoring, native meadow creation
Event days.